Company
A hyper-specialized, high-tech company
OVS designs and manufactures shell and tube heat exchangers and pressure equipment for oil & gas, chemical and petrochemical plants, for the fertilizer industry and for refineries all over the world.
The transition to a joint-stock company in the 1980s occurred with the increasing development of internal know-how and the first construction technologies that transformed the production into more complex equipment, entirely manufactured in the workshops in Vertova.
At the same time, the approach and expansion of the sales force on the international market made it possible for the company to be also recognized by foreign customers and to expand product exports, which were already considerable in the early 1990s.
The dynamic and enterprising spirit of the past still characterizes the outlook of OVS, which has always been run as a private company by the Guerini family.
Its central location in northern Italy, just a few kilometers from Milan and the main seaports, was the strategic decision to locate the business in the Italian industrial hub for excellence and has always facilitated transport both by water and land.
History
OVS' history, from origins to recent years
The 1970s
The first filter
Late 1970s
The first heat exchanger
Late 1970s
The equipment sizes changed from small to medium/large.
The 1980s
The new workshop at the current site
The workshop in the settlement at Via 5 Martiri, 33 in Vertova (BG) in the early 1980s.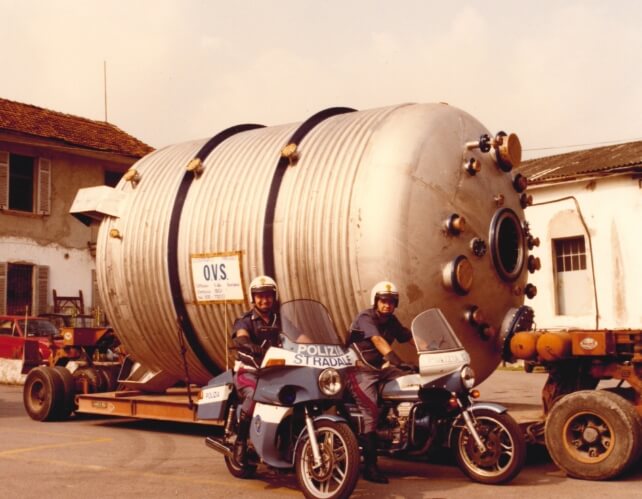 Early 1980s
Special transports
The size of the equipment began to be considerable and required special transports, which at the time were considered bulky and non-standard
The 1990s
The production of heat exchangers and pressure vessels became a well-established core business and the equipment acquired an increasingly sought-after structure and complexity for which transport and handling management is also a daily, established way of working.
Early 2000s
Large high-pressure heat exchanger projects are a success in terms of production and operational performance on the plant.
2008
The first MP Decomposer
Increasingly complex and detailed heat exchangers for special processes and applications are produced by the Vertova workshop and delivered for the first time.
2013
Expansion of production site
In 2013, the expansion of the production site in Vertova was completed with a new and immediately functioning workshop covering a total area of 8,000 m2.